Expanding an entry-level electronic drum kit is hard, but not impossible using creative thinking. In a series of articles I will describe how to convert a Roland TD-11 kit into a Neil Peart sized kit.
I'm a hobby drummer since several years, having owned three different kits. My first kit was a used Pearl Mapex with a total of 6 toms but only 1 cymbal. It became clear, that the kit was way too big for my abilities, and that a single cymbal wasn't as fun as my school's kit that had only 2 toms but three cymbals.
A few years later I bought a TAMA Swingstar 3-tom kit, which I immediately expanded with a second cymbal.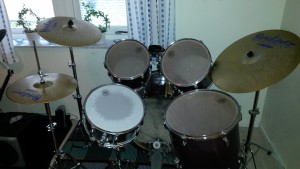 With a move pending from a house to a condo, I recently replaced it with an electronic Roland kit.
I wanted to be able to expand the kit, but didn't have the €7.000 for a TD-30KV V-Drum Pro Set. So I had to compromise and read up on the alternatives. Eventually, I settled for a TD-11K for €1.000. Quite far from my dream kit, but realistic.
So, what about extensions? The TD-11 came with 3 small rubber tom pads, and two rubber cymbals. The only mesh pad was the snare drum. I had kept my old Pearl double kick pedal and drum throne, which were the only items missing from the kit. Having downloaded the manuals for the kit beforehand, I knew it had an unused crash 2 input that could be used used for a third cymbal or fourth pad.
Quite immediately, I added a dedicated 3-zone CY-13R Ride cymbal and a MDY-25 boom, using the original ride cymbal as a secondary crash in the crash 2 input.
My kit now consisted of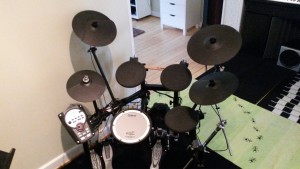 3 Toms: high, mid, low
left Crash cymbal
right Crash cymbal
Ride cymbal supporting bell, bow and edge trigging
At this point, the kit was maxed out in terms of inputs. But, there are some hidden gems in the TD-11 module. In the next article, I'll show how to add a cowbell using nothing but changing the configuration of the pads. It is even possible to add more cymbals and tom pads than there are inputs!
More reading: