In my previous post, I described how to add a second crash cymbal to a Roland TD-11K kit. Now, being a rock drummer, there can never be too much cowbell in a song. But all inputs are already occupied! In this article, I describe how to add a secondary sound to an input.

The Roland TD-11 allows dual trigging on basically all inputs; both pads and cymbals. It is achieved by providing each pad or cymbal with two triggers located in different physical zones. Pads utilizes this to provide edge sounds in addition to the normal surface sound. For cymbals, it is used to provide both bow and edge triggers.
The Ride input actually has three trigger zones; bow, edge and bell, and the required cable is included in the kit, but the provided cymbal pads don't contain the required input, so a CY-13R or similar 3-way cymbal is used to fully utilize the 3 triggers. Other exceptions are the kick drum and hi-hat foot switch inputs; they only provide a single input.
Normally, changing the sound of an input automatically changes the sound for both zones, so the new setting is consistent independent of where the pad/cymbal is struck. On the screen, this is shown by the LINK text in the pad setup screen.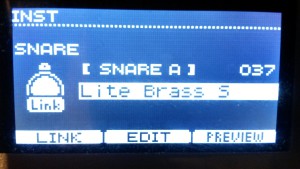 However, disabling the link feature allows the input to play different sounds depending on if bow or edge is struck. By compromising with dynamics, it is possible to add a cowbell sound to the bow of the second crash cymbal, while keeping a crash sound on the edge of the cymbal. Since bow and edge sounds can be selected independently from the entire palette of sounds when the link is disabled, it is even possible to choose the bow sound to be played when the edge is is struck.
The MDS-4V drum stand is quite small, so the placement of the right crash makes it ideal for a distinct sound when hit it on the edge. I've chosen the edge sound from the 18″ Fast Crash cymbal, called 18" Fast CrE in the settings, and the Cowbell sound for the bow.
In order to avoid accidentally playing the cowbell, I experimented with the placement and angle of the cymbal until I found a position that was natural for cowbell playing on the bow, as well as a hard strike on the edge.
In the following posts, I will describe how to utilize this technique to add even more cymbals to the kit at no extra cost!
More reading: